Aussie Redback Tours are passionate about sharing our knowledge with you. We take pride in not only what we know about our country, but also our professional presentation, our eco-friendly values, and the fact that we simply enjoy what we do. Our tours are "value-for-money", and include motel/cabin/safari tent accommodation, daily breakfasts, most dinners and some lunches. We also include national park fees, river cruises, wine tasting, festivals, and helicopter flights on a number of our tours.
Our tours are carefully planned, and whether you are single, a couple, or part of a group, we provide options for you. We also consider your dietary requirements and make arrangements to ensure these are included in the tour.
We love getting to know our passengers, and at the end of each day we enjoy sharing stories and having a laugh with everyone on tour!
Our Team
Sharon Kersting – Owner Operator / Tour Co-Ordinator
"I am a true blue West Australian with red dirt in my veins. I love showing off my country, and I am passionate about Australia's history and culture. I have 24 years experience in coach travel all over Australia. I have worked for one of WA's oldest tour companies for over 9 years as a driver, tour co-ordinator and host, and loved every minute of it. I am also a licensed and accredited tour operator, with extensive knowledge of Australia. I can drive the largest of road coaches and 4×4 tour vehicles (with a trailer, if you don't mind!), and I also have vast experience in the mechanical side of things. I want to show off this country because I believe we have the best country in the world"!
Chris Hill – Driver / Tour Host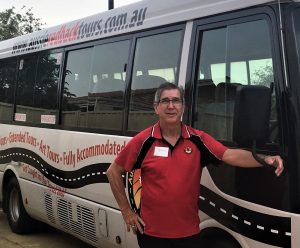 "I am very excited about driving for Sharon and Aussie Redback Tours.  I have a great love of travelling, especially around this wonderful country of ours.  I have criss-crossed the country on a motorcycle and in a caravan, and now enjoy showing tourists around in our tour buses. We really do have an amazing country and I feel privileged to have the opportunity to show people around it."
Gavan Jacob – Co-Driver / Tour Host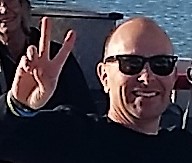 "I joined Aussie Redback Tours in 2016. My past work experience was in IT, airport passenger transport, and heavy vehicle operations. Recently I acquired a taste for outback travelling which led me to this casual role".