Savannah Way – Kununurra to Cairns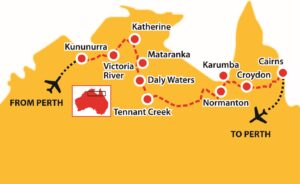 Tue 02 July to Mon 15 July 2024 (14 days) 
Seniors $5,490 Adults $5,540 S/Supp $1,250 
Australia's adventure drive from Kununurra to Cairns in Tropical North Queensland via the natural wonders of Australia's tropical savannahs and the Northern Territory's Top End.
Cape York / Thursday Island
Wed 17 July to Mon 29 July 2024 – 13 days (9 days motel/3 days permanent camp)
Seniors $5,600 Adults $5,650 Single Supp $1,150
Join us on a trip to the very tip of the Australian continent and discover the oldest rainforest in the world.
The Longest Shortcut
Sun 18 August to Sun 01 September 2024 (15 Days)
Seniors $5,800 Adults $5,850 Single Supp $1,250
Join us on this iconic trip, heading diagonally through Australia and some of the most remote country in the world.