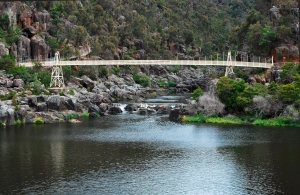 These are words that people often associate with Tasmania, along with "rugged", "forests", and "apple isle". Tasmania, or "Tassie" as it is colloquially named, is a very popular tourist spot for Australians and overseas visitors. It has such a diverse range of spectacular scenery, abundant wildlife, gourmet food and wine, and it's a perfect island to explore in a short time.
Since the first European sighting in 1642, Tassie has seen many changes – politically, socially, and environmentally, and its history is a mix of good and bad. It has seen tensions between early settlers and the Aboriginals; the establishment of convict-based settlements; its proclamation as a separate colony in 1856; major loss of life and property in the 1976 Tasmanian Fires; the Port Arthur massacre in 1996, and the Beaconsfield mine collapse in 2006. It is also known for the extinction of the Tasmanian tiger – a stripe-backed marsupial which resembled a wild dog. Whilst there is a lot of bad history, the state of Tasmania has used the adversity to establish itself as a major tourist destination, and tourists flock there every year.
If you'd like to go, we have a tour to Tasmania in November and there are still seats available. We have carefully planned the tour so that you take in many of the best sightseeing spots at a leisurely pace, with lots of extras thrown in.  The tour runs from Wed 01 to Sun 12 November 2017 (12 Days), and is competitively priced from $4,370 per person (or $4,320 for Seniors). The price includes flights Perth-Hobart-Perth, Port Arthur, Wall of Wood, Lake St Clair, Russell Falls, Gordon River Cruise, Wineglass Bay cruise, Bridestowe Lavender Estate, motel accommodation, most meals, and much much more!
To come with us to Tassie or to receive a full itinerary, please phone us on 1300 662 026, email us at aussieredbacktours@yahoo.com.au, or visit our website – www.aussieredbacktours.com.au.
We are also on Facebook, so if you haven't already, please look us up and "Like" our page (and put up a review if you've travelled with us) – https://www.facebook.com/AussieRedbackTours/