Albany / Esperance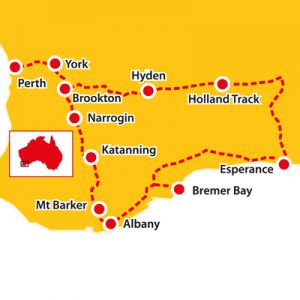 Sun 21 to Sat 27 March 2021 (7 days)
$2,070 (Seniors $1,920) S/Supp $480
Here's your chance to explore a large part of the beautiful south-west of WA, including a variety of scenery and historical locations such as beaches, forests, mining towns, and Aboriginal legends. We visit the stunning beaches of Esperance (some say these are the best beaches in Australia), and the amazing south-west WA towns of Hopetoun, Bremer Bay and Albany, and on the way back to Perth we see the spectacular Wave Rock. Why not join us on this diverse seven-day getaway.
Day 1
Departing Perth, we travel the road less travelled to Albany. We visit Collie via the South-West Highway and enjoy a morning tea in this quaint little coal mining town.  After that it's on to the country town of Boyup Brook. From here we will take the road through the Greater Kingston National Park to Franklin River, Rocky Gully and Albany, our home for two nights. (B,D)
Day 2
This morning we will visit some of Albany's attractions – firstly Mt Clarence (the Desert Mounted Corps Memorial stands near the summit of Mount Clarence. We shall also visit the newly opened Anzac Centre. The National Anzac Centre is dedicated solely to honouring the Anzacs of the First World War and is a must see at the Forts. In the afternoon we head to the Gap, which has undergone a major revamp at a cost of 5 million Later we return to our accommodation after an informative day in Albany . (B,D)
Day 3
Departing Albany, we make our way to Box Hill and Bremer Bay, situated near the Southern Ocean.  This is our morning tea stop before heading to Jerramungup for lunch. In the afternoon we continue our journey to Hopetoun. This town was established in 1900 as a coastal town servicing the Phillips River Mining District. We also visit the Fitzgerald National Park; with its beautiful views of our rugged coast. We settle into our accommodation for the night at this beautiful location. (B,D)
Day 4
Continuing our path this morning, it's a short drive through to Esperance, where our first stop will be at Cape Le Grand National Park. Beaches within the Park include those at Lucky Bay, Rossiter Bay, Hellfire Bay, Le Grande Beach, and Thistle Cove. Then on to our accommodation for a two night stop over. (B,D)
Day 5
We start the day with a wonderful and informative boat cruise to and around Woody Island.  Woody Island is the only island of the archipelago. When we return to the mainland, we enjoy free time to explore this lovely seaside town. Later we shall take a leisurely drive around the Great Ocean Drive and stop at a few of the wonderful beaches and bays on the way.  We will also be stopping at Pink Lake. (B)
Day 6
Leaving Esperance, we travel towards Norseman on the Esperance highway.  We pass Salmon Gums near Peak Charles National Park and see Lake Dundas on the edge of Dundas National Park with the Bremer Range on our left. We have some time in Norseman before taking the Norseman Hyden road to Hyden, on the way taking in Lake Johnson – truly beautiful in its own right. (B,D)
Day 7
Our last day arrives, but not an end to the exploring.  First to Mulka's Cave. The name Mulka comes from an Aboriginal legend associated with the cave. Mulka was the illegal son of woman who fell in love with a man with whom marriage was forbidden according to their law. We view aboriginal paintings, and then explore Wave Rock. Wave Rock is a granite cliff 15 metres high and 110 metres long. Its rounded-like shape has been caused by weathering and water erosion over millions of years. We then travel to Kondinin and Brookton before arriving at Perth after an interesting and relaxing tour of Albany and Esperance and its surrounding areas. (B)
Boyup Brook
Collie
ANZAC Centre
The Gap
Bremer Bay
Hopetoun
Woody Island Boat Cruise
Mulka's Cave
Wave Rock
All national park entries
Daily breakfast, daily dinners
Motel accommodation
Air-conditioned bus
Reservations & Enquiries
For enquiries and reservations, please contact us to speak with one of our friendly and professional staff or click on the Book Now button on this page.
Phone: 1300 662 026
Email: info@aussieredbacktours.com.au
We are proud to be associated with All Aboard Coach Tours (school and community group catering and special functions) – All Aboard Coach Tours, and proud member of – Tourism Western Australia