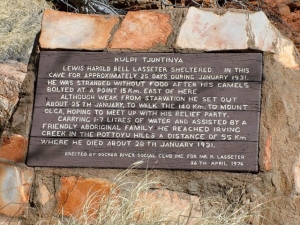 Starting in Western Australia and finishing in the Northern Territory, the Great Central Road is a picturesque wonder of scenery and wildlife. It takes in some of Australia's iconic amazing outback such as the Great Simpson Desert, Petermann Ranges, Giles Weather Station, Lasseter's Cave, Kata Tjuta (the Olgas) and Uluru (Ayers Rock).
There has been talk for years now about bituminizing this road. It is one of the last outback frontiers tracks in Australia and it would be a crying shame if this happens, as every truckie in the country would use it.
This year we will be running a 13-day tour of this area. The tour also visits Kings Canyon, Alice Springs, (with its diverse landscapes and colours of the McDonnell Ranges), the multicultural town of Coober Pedy, (one of the largest towns in SA and home to 92% of the worlds opals), Woomera (famous for its history as a rocket test range), and Port Augusta on the Spencer's Gulf.
We cover three states in this tour at a leisurely pace, so you have time to take it all in and marvel at what a wonderful country we live in and wonder how our pioneering ancestors survived. We enjoy two nights at Uluru, two nights at Alice Springs and two nights in Coober Pedy, so we can really enjoy ourselves without rushing. This is a fully accommodated 13-day tour (no camping), which includes most meals, entries and attractions, and a return flight to Perth. The experience of travelling this road will stay with you forever and leave you longing for more of our stunning outback.
The tour leaves on 02 April 2018. If you would like a full itinerary of this tour, please call us at Aussie Redback tours on 1300 662 026.