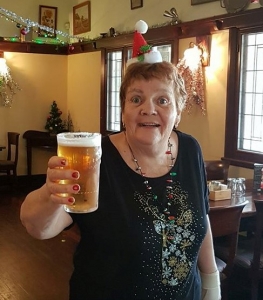 We at Aussie Redback Tours really do love bringing people together. We take pride in giving our passengers relaxing, fun filled, exciting tours, bringing people together from all over the country to make new friendships and wonderful memories.
We love getting to know our passengers and we have made some lovely friendships over the last three years, with passengers who continue to support us with their repeat business.  All walks of life enjoy our tours, even those who have ongoing aliments; some with underlying medical conditions, and some with grief from losing a loved one.
One of our passengers, Barbara (pictured with a shandy on our recent Christmas Lunch Mystery Tour) has undergone countless medical procedures, but that doesn't stop her. She shows a determination to get on with life while she can.
Barbara has told us that "It hasn't been the best year for my health, but it ended up Ok. I have osteo-arthritis in my knees and need a knee replacement, but that's on hold now as I have just finished six months of chemo for Waldestrom – a type of non-Hodgkin's lymphoma. Two weeks after treatment I took off to Tasmania with Aussie Redback Tours, which helped me get over it. Even my pacemaker behaved itself this year! I find mixing with the other lovely passengers, whether it be on day tours or extended tours, certainly is the best medicine out! lol, but I'm sure there are people out there that have been through a lot more than me".
This is just one example of one of our passengers who lives life to the fullest while she can, and it certainly has opened our eyes to how we should all tackle life. Our advice is to get out there, get on with it and enjoy your twilight years in the company of like-minded people.