As restrictions are lifted and life gets back into some sort of normality, we at Aussie Redback Tours are keen to get back on the road again. We are particularly keen to get back into the outback and explore the more rugged areas of our country. Our tours departing in April are:
Broome to Kununurrra
Sat 2 April – Sun 10 April 2022 (9 Days)
Adults $4,100 Seniors $4,300 S/Supp $820
Explore the stunning scenery of the popular Kimberley region, starting with a flight to Broome, then quality travel time throughout the Kimberley to Kununurra, and a return flight back to Perth. This is one of our favourite tours and we can't wait to show you why.
Mt Augustus / Walga Rock
Sat 16 April to Wed 20 April 2022 (5 Days)
Seniors $1460 Adults $1570 S/Supp $320 Upgrade available at Mt Augustus @ $100/nt
Join us on a tour to Mt Augustus, the largest rock on the planet, and the nearby monolith named Walga Rock. This is a very popular tour so don't miss out.
Adelaide to the Red Centre
Sun 24 Apr to Tue 03 May 2022 (10 days)
Seniors $3800 Adults $3950 S/Supp $810
A tour packed with variety for those who wish to discover the spectacular towns and scenery of our Red Centre including Coober Pedy, Ayers Rock and the Olgas. Includes flights Perth to Adelaide and Alice Springs to Perth, with a wonderful adventure in between.
On each of these tours we'll be taking our newest fleet member – Henry Lawson – a very luxurious and comfortable 4WD bus with heaps of space inside.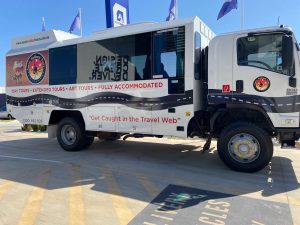 If you'd like more information on each of these tours, head to our Extended Tours page or contact us on 1300 662 026 or info@aussieredbacktours.com.au for a full itinerary.