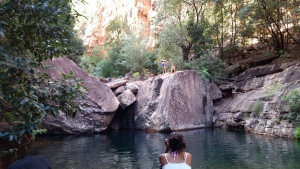 The Gibb River Bungle Bungles Tour in the Kimberley is done and dusted for this year, and may I say "what a fantastic tour"! Great people, beautiful scenery and magic weather.  There were lots of laughs, stories, bumps and fun, and I enjoyed the passengers' company very much.  It was a great success and we can't wait for next year's tour. Our all-terrain bus, Albert Namatjira never missed a beat on the Gibb River tour, he was comfortable, reliable, and not even one flat tyre to be had.   During the tour we saw some amazing scenery including Bell's Gorge with its beautiful waterfalls and stunning swimming holes – a welcoming sight after a short walk to the falls.  And speaking of swimming, we all enjoyed an hour or two at Drysdale River up the Kalumburu road, where we swam, relaxed, and soaked up the atmosphere of the Kimberley with nibbles and drinks.  On our way to Home Valley we called in to Ellenbrae Station where we enjoyed home made scones, cream and hot coffee, and all-round good outback hospitality.  Home Valley Station was another stop that provided amazing accommodation and we saw the most brilliant sunset I've seen in 20 years.  Simply stunning!  These were just a sample of what we experienced – there are just too many more wonderful sights to mention.  You must come with us on next year's Gibb River tour to see for yourself.
Now we are concentrating on the wildflower season and we have some wonderful tours coming up – 1 day tours, 4 day tours, and a magical 7 day Mt Augustus Kennedy Range tour (which combined with wildflower season, will prove to be a perfect all round trip).  These tours are already starting to fill up as people are realising that the season should be a cracker with lots of rain having already fallen throughout the state.  It will be a blooming wonderful season!
The name of the game for us is "enjoyment" and that's what we want for you, as well as more value for your dollar.  With that in mind, we are starting our passenger loyalty programme.  Stick with us and you'll be rewarded.  Details will be released soon.
That's it for now.  We're heading off tomorrow, back to the Kimberley for our Kimberley Dreaming Tour and our Albert Namatjira Art Tour around Alice Springs and Glen Helen Gorge Resort.  Stay tuned for more blog posts and pictures.
Take care and stay safe, people.  See you on one of our tours!